"Technology is teaching us to be human again!" – Simon Mainwaring
The call for automation in recruitment is not a new one. Growing volumes of recruitment and dynamically changing skill-set requirements meant that recruiters could no longer spend the required amount of time sourcing and screening the right candidates.

The expansion of the role of the recruiter has impacted the hiring process immensely. No longer can the recruiter rely on the candidate to show off his or her skill to win a job opportunity. The recruiter now has to pitch his job, much like a salesman pitches any of his products to the prospective candidate. Rise of social media, digital job boards, and personalized job searches have meant that the recruiter has a lot more on hand than simply calling candidates and fixing interviews. This has also meant a need to automate certain mundane tasks so that the human resource can focus on more quality tasks.

According to a recent survey, 75 percent of the organization uses automation for hiring. The same study shows that 80 percent of recruiters encourage the use of automation in talent acquisition processes. At the same time, 22% of talent organizations were supposed to increase their spend in recruiting automation by 2019.
But if automation in recruitment is already increasing, why is there so much noise about it now?
Why automation in recruitment? And Why now?
"In the post-COVID19 world, the focus has shifted to cost optimization; the only place companies are willing to invest is, in automation."
Even though the COVID19 pandemic has hurt the recruitment industry, it has also cleared the path for innovation. In many ways, the epidemic seems to have accelerated the process towards automation for the entire recruitment ecosystem.
The lockdown and social distancing measures have forced the creative use of digital technologies in education, business, medicine, and recruitment. With companies concerned about the safety and health of their employees and candidates, most recruitment processes have been shifted to virtual platforms.
What this has inherently meant, is an absence of human intervention. With most of the staff working from home, organizations are finding out that a lot of the present human-centric jobs can be automated, with even higher returns in terms of output.
By leveraging automation and technology, companies have been successful in maintaining an agile, modern, and cautious approach to recruiting, which is imperative during these unprecedented times.
Benefits of automation in recruitment
"Businesses will look to drive automation to make their current processes more efficient and reduce their operational costs, which will be their top priority for FY21."
1. Third-party Assessment Tools: With COVID19 curbing traditional one-on-one interviews and assessment rounds, candidates can be given online assignments to complete. HackerRank's CodePair (for coding interviews) and Google Jam board are some of the solutions available for recruitment.
2.Detailed Job Descriptions: AI-based JD software can provide real-time feedback to the recruiters on their JD. This helps them in writing detailed job descriptions and attract the best talent.
3. Use Company's Own Database: About 40% of the final hires are shown to be already present in the company's internal database. Working with external sources while neglecting the company's own database not only results in duplication of work but also increases the cost of hiring.
Modern matching engines can index the candidates who have applied to a particular job in the decreasing order of their relevance with AI-backed scores based on their skills, education, and experience.
If the recruiter does not find any suitable candidate from the applications received, they can search in their internal candidate pool to find the best match for a particular profile.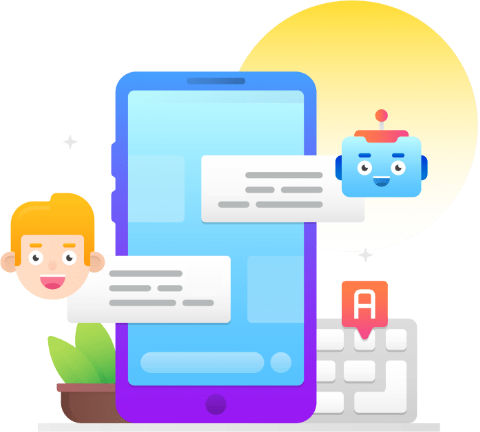 4. Eliminating Pre-screening calls: AI-powered chatbots automate the entire pre-screening conversation. Some of the critical questions not available in resumes like Notice Period, Location Preference, Flexibility to work in shifts etc. are answered via chatbot screening.

This helps in eliminating pre-screening calls and reduces the overall screening time significantly.
(Illustration by Ouch.pics)
5. Automated Interview Scheduling: Cutting-edge chatbots converse with the hiring manager and the candidate to find common timings and block the calendar accordingly. These chatbots minimize the back and forth of scheduling and rescheduling to cut down on recruitment time and hassle.
6. Insights and Analytics: No longer does the HR team need to sit down and make hiring reports on complex excel sheets. Modern-day solutions use existing data to provide key insights and detailed reports on hiring patterns.  They also offer analytics about candidates and workforce based on location, experience, education, past companies, and skills.
The detailed reports even increase transparency in the recruitment process, meaning the organization can now track all recruiter's activities, including the time of usage, jobs assigned, and action on specific applications.
7. Push Surveys: One use-case of automation during the current pandemic has been the advent of daily push surveys from companies. These surveys are in the text message format, trying to gauge if they are available to work on the given day.

With the economy opening up and the high risk of staff being affected by the virus, it is important to know why an employee is absent on a given day. This helps the company in not only managing the safety of other employees but also to manage resources accordingly.
8. Automatic Update Of Candidate Status: How many times has a candidate applied for a job and has not known anything about his or her application status ever since?
With automation solutions, the application status is self updated after every round ensuring there is more transparency between the candidate and the organization.
9. Interviewing: How about an interview round that can exist without human biases?
With video interviews on the rise, systems can provide sentiment analysis based on what the candidate is saying,  how he is saying it, the tone of voice, eye contact, and the candidate's emotions. The system can then generate scores and rank the candidates based on the fitment with the company.
About Skillate
Skillate is an advanced decision-making engine to make hiring easy, fast, and transparent.  The product helps in optimizing the entire value chain of recruitment, beginning from creating the job requisition, to resume matching, to candidate engagement.

Skillate has realized the following benefits for its clients:
30% Reduction in the cost of hiring
50% Reduction in time to hire
2.2x More qualified candidates

To know more about our solutions, contact us:
Reference: PeopleMatters